Healthcare has been experiencing an immense transformation, especially in times of the pandemic. Healthcare organizations, including the CMS Innovation Models participants, address value-based outcomes through urgent care, acute care, chronic illness, and other homebound patients with different types of treatment implementation. With digital health solutions, the shift in integrated care coordination can help in managing patients' well-being and address their clinical and social needs.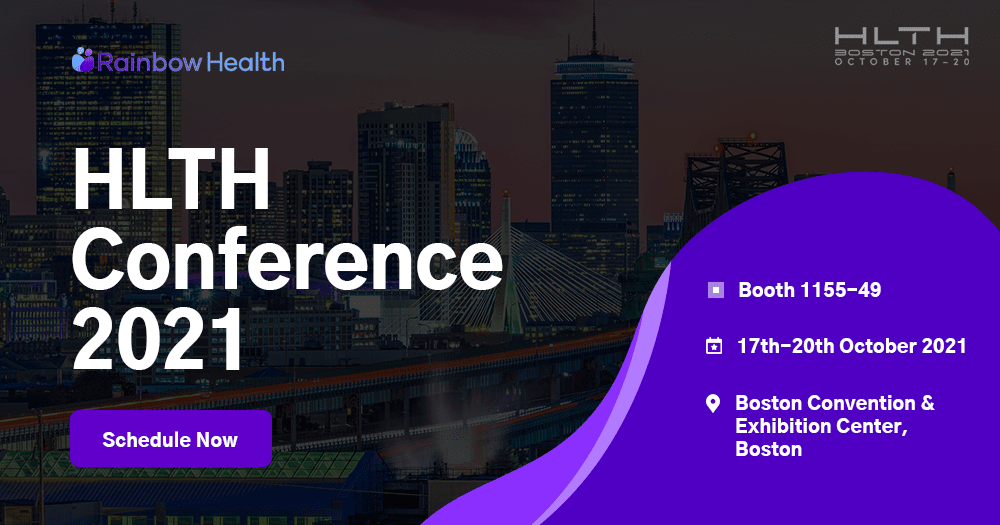 Rainbow Health's suite of solutions offers digital transformation and technological advancements that seek to assist both clinical and social sectors in the post-COVID era. The transition required from hospital-to-home healthcare services can be channelized under Rainbow Health's unified care coordination platform. Rainbow Health is here to deliver the best possible digital health outcomes for Hospital-at-Home Programs, Health Plans, Direct Contracting Entities, Home Health Agencies, and more!
Join Rainbow Health at the HLTH Conference
Where: Booth 1155-49, Boston Convention & Exhibition Center, Boston
When: 17th-20th October 2021
Bringing Innovation under a Unified Platform
Rainbow Health's digital health solutions focus to improve quality care delivery, improve patient experience, and offer affordable cost-effective solutions for payers, providers, and patients.
Hospital-at-Home Program: Assists with inpatient care, transition to home after ED visit or readmission for acute and post-acute care, assists interdisciplinary care teams including Nurse Practitioners, PCPs, Social Workers, and provides transitioning towards home healthcare services for further care continuity.
Direct Contracting Entities: Manage your risk-based population, with chronic conditions, performing under a common legal-based healthcare structure.
Home Healthcare Agencies: Offers support for the transition of care, provides home health aids, palliative care, and hospice care for other homebound patients.
Health Plans: Offers supplemental benefits to address members requiring coordinated care services under Medicare Plans, overcome logistical challenges, and offer value-based care for providers and patients.
What's More?
Rainbow Health's extended and unified care coordination platform includes the specific House Calls Dispatch solutions. Our dispatch solution offers to:
Simplify logistics
Provides a bird's eye view for streamlining operations, and
Optimizes schedules for enhanced productivity.
Licensed providers are allocated for providing services to patients and provide patient physicians and care teams with oversight via telemedicine capabilities under the Rainbow Health umbrella. Our dispatch solution offers an extension to care delivery services into the home. Providers, health plans, and more can offer clinical and non-clinical services to patients and gain in-depth insights into the SDoH and clinical data to bridge the gap in care delivery through informed decisions. Learn more about how you can support and scale your House Calls Dispatch with Rainbow Health's integrated digital technology.
About Rainbow Health
Rainbow Health's innovative healthcare solutions have been used across 20+ states in the US for delivering value-driven home healthcare to seniors. Rainbow Health's platform focuses on unifying care management and coordination services, including dispatching, implementing home-based care delivery models, scheduling, remote monitoring activities, and logistical coordination for ancillary services for patients who require care at their homes. Rainbow Health's team portrays a deep understanding of custom building healthcare solutions for existing healthcare organizations.
Rainbow Health offers an integrated all-in-one platform for providers, health and healthcare agencies, for patients and their families, and support care coordination. Our digital health solutions can help to complete your technological requirements. We aim to offer an efficient and potent care coordination platform across the care continuum and yield better health outcomes through digital health solutions.

Author's Bio