Although the potential benefits of effective behavioral health crisis response are widely accepted, it's hard to quantify the overall impact that mental health crises and substance misuse issues are having economically and socially across the U.S.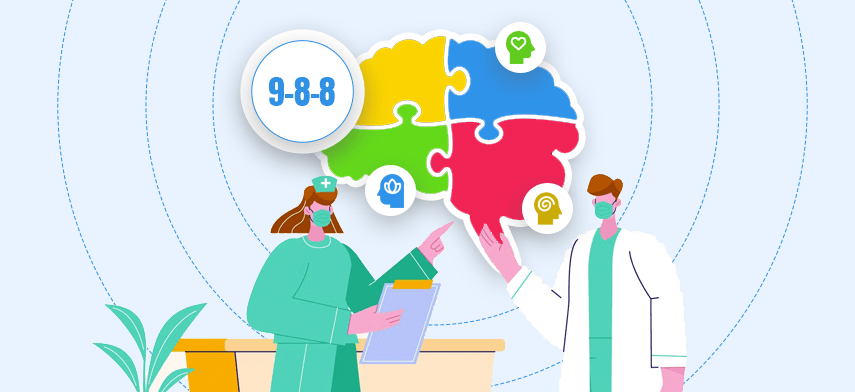 We know that the numbers are big and the negative effects are wide-reaching.
Consider the following statistics for the U.S.
In 2020:
52.9 million adults (18 years and older) experienced any mental illness (AMI)
12.2 million adults had serious thoughts of suicide
40.3 million people (aged 12 or older) experienced a substance (alcohol and/or illicit drug) use disorder (SUD)
Serious mental illness (SMI) is defined as a mental, behavioral, or emotional disorder that disrupts one or more major life activities. Nationwide 14.2 million adults (18 years and older) were recognized as experiencing SMI in 2020. SMI alone is estimated to cost $317.6 billion per year in lost earnings, healthcare costs, and disability benefit payments. The personal costs of untreated SMI, while hard to quantify, can be staggering. NAMI's list of potential consequences includes "unnecessary disability, unemployment, substance abuse, homelessness, inappropriate incarceration, suicide, and poor quality of life"
No community and few families have gone untouched by the effects of these mental health and substance misuse crises.
9-8-8: The First Key Crisis Service Element Is Now Available
In 2022, the U.S. took an important next step in improving healthcare's crisis response with the launch of 9-8-8 as a nationwide crisis and suicide hotline. These standardized regional call centers firmly establish the first of three crisis service elements identified in the SAMHSA National Guidelines for Behavioral Health Crisis Care.
These guidelines call for the philosophy behind behavioral health crisis response to be distinct from other first responders like law enforcement, firefighters, and paramedics. Behavioral health crisis response programs need to use a recovery-oriented approach and be part of a coordinated continuum of care. It is not enough to intervene in the current episode that the person is experiencing, the objective needs to include the person affected getting access to the follow-up care and services they need.
This brings us to the two other behavioral health crisis service elements SAMHSA identified. They are:
Mobile response teams (i.e., "someone to respond")
Receiving and stabilizing facilities (i.e., "a place to go")
Communities continue to work on establishing and strengthening these.
Mobile Response Teams: Someone to Respond In-place
Behavioral health mobile response teams are especially suited to respond to mental health and substance misuse crises. Made up of clinicians, mental health professionals, and peer counselors, these first responders have the skills and training to deliver immediate, in-place care to the person in crisis.
These teams fulfill the essential functions needed for effective responses to behavioral health crises.
These functions include
Screening for suicidality
Assessing the person's mental and physical state
De-escalating and resolving the situation
Offering peer support
Coordinating medical and behavioral health services
Conducting crisis planning and follow-up
As a result, more people in behavioral health crises find themselves receiving appropriate care and experiencing better outcomes. Unnecessary hospitalizations and incarcerations are avoided. Law enforcement resources aren't diverted away from community safety. And, overall, the dollar cost to the community is lower.
One study documenting this cost-effectiveness measured the per-case cost of using a mobile crisis program as being 23% lower than engaging in police intervention. Additionally, they found that mobile crisis intervention reduced associated in-patient hospitalizations by approximately 79% in the six months following the crisis event.
Care Coordination: Essential for Success
SAMHSA's National Guidelines for Behavioral Health Crisis Care speaks to the importance of care coordination in successfully implementing behavioral health crisis response programs. It addresses the kinds of operational and communications systems and processes needed for success.
It characterizes agency-to-agency collaboration and supporting a coordinated continuum of care as "essential." And goes on to say that agency-to-agency collaborations need to deliver behavioral health services to "anyone, anywhere, and anytime."
The guidelines also directly point out the kind of care coordination and communications platform such a crisis response program needs.
For a crisis service system to provide…fully integrated care, it must implement an integrated suite of software applications that employ online, real-time, and 24/7 ability to communicate about, update and monitor available resources in the network of provider agencies.

Rainbow Health Supports Fully Integrated Crisis Response Management
As communities continue to strengthen and evolve their behavioral and mental and mental health crisis response programs, Rainbow Health is prepared to help them with its robust crisis management solution that supports access to view, accept, document, dispatch, and coordinate the care response in any type of crisis.
Rainbow Health's Crisis Response Management solution can support all core service elements in your crisis response program: regional call center, mobile response team, and receiving care facilities.
From accessing assessments and treatment to those in crisis, dispatching mobile crisis teams in real-time, and tracking them, our solution makes it easy for crisis call center teams, and treatment providers to efficiently manage every step in a patient's/clients journey.
From accessing assessments and treatment to those in crisis, through dispatching mobile crisis teams in real-time and tracking them, our solution makes it easy for crisis call center teams and therapy providers to manage every step in a patient's/clients journey efficiently.
Our platform supports crisis response, community support, and referral to behavioral health providers for services such as face-to-face crisis assessment, crisis intervention services, crisis follow-up, and relapse prevention services.

Author's Bio
Ayushi Patel is the Director of Strategy & Innovation at Mobisoft Infotech. She leads the strategic partnerships and initiatives in the healthcare division. Her experience includes healthcare administration, business development and sales, and customer success management.